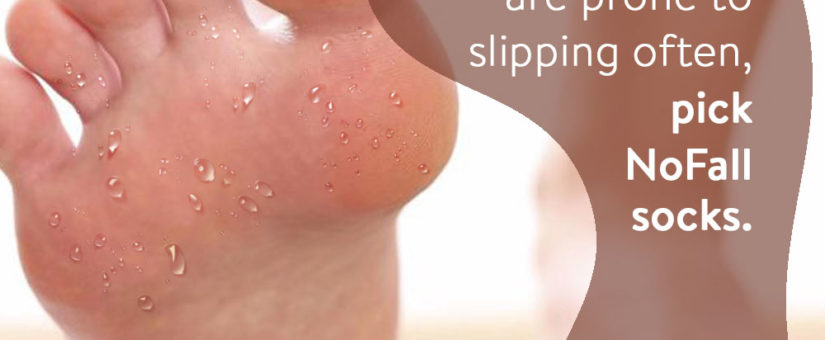 We love our parents and their safety is our utmost priority. It is often seen that elderly people face difficulty in walking without support. Some even complain of strain in knees and on the feet, while some use a walking stick for support. There is a constant fear of falling down and slipping over smooth surfaces. Wet floors are a big no-no! How much ever you try and want to be with them all the time, it is nearly impossible for you to be present with them physically 24/7. So how will you ensure their comfort and safety? Citing this concern of all the youngsters across the globe who care for their dear ones, Nofall.in brought to life a revolutionary product – Nofall Anti Slip Socks.
It has been a personal experience of so many users that the socks offer exclusive grip due to which all the oldies can walk effortlessly without the fear of falling or slippage. Some of the customers have even reported that these anti-slip socks have replaced their walking sticks! Yes, thanks to the anti-slip technology, the socks renders a firm grip to your feet while walking. It has been specifically designed with the 'intention of safety' of the users. With thousands of happy users, Nofall Anti-Slip Socks is a complete winner!
"What can be better than gifting your loved ones the ability to stand tall and a strong support that stays?"
Some of the major benefits of the Anti-Slip Socks by Nofall :
Gives you a better grip while walking, jogging, and playing any sport.
Saves you from unintended accidents.
A stress-free exercise time!
Best gifting option for your parents and loved ones.
Can be worn on wet surfaces without the fear of slippage or falling.
Helps you perfect your Yoga Postures by supporting your feet with a firm grip.
Get to know Nofall's products better :
Comply to international standards.
Designed with an intention of customer safety.
Scientifically tested.
High-quality raw material.
Applicability of ink for manual printing.
Unmatched product quality.
Ethical business conduct.
Hassle-free packaging.
Prompt delivery.
Affordable price points.
Comes in beautiful and appealing colours and designs.
Posted by hits
On September 4, 2018
0 Comments