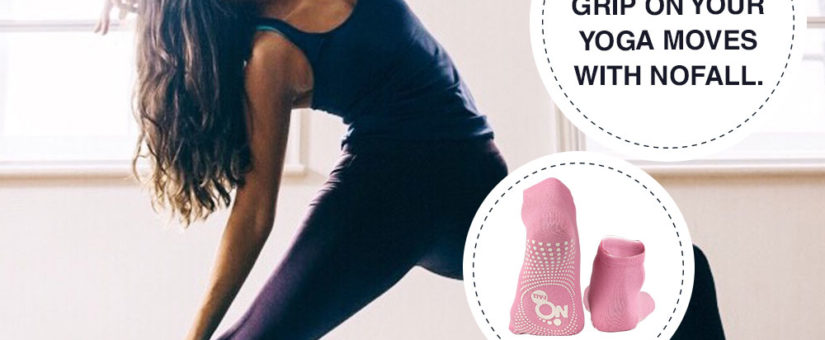 So, you are all geared up for a fun and fulfilling yoga session with new cool yoga outfits, tracks, headband, yoga mat, water bottle and other essentials. With all zeal and enthusiasm, you start practising the asana – one, two, ouch…slip! Sounds familiar? We get you, totally! Often, we tend to slip down or get into wrong postures due to the poor grip of our feet on the ground or the mat. All the asanas or yoga postures require us to be firm and steady in the position. However, a steady position in tough postures is difficult to maintain. It not just steals the benefit of you practicing the yoga asana but also renders a risk of you falling flat on your face.
You do not want that to happen, do you? Here we have a simple yet effective solution for all the yoga and fitness enthusiasts. Nofall Anti-Slip Socks is a revolutionary product that prevents you from accidental slipping thus saving you from any unfortunate incidents. These anti-slip socks are specifically designed to prevent sliding on slippery surfaces. The intention behind creating this super useful product was the user's safety, hence the price points are extremely affordable.
Some of the major benefits of the Anti-Slip Socks by Nofall :
Helps you perfect your Yoga Postures by supporting your feet with a firm grip.
Gives you a better grip while walking, jogging, and playing any sport.
Saves you from unintended accidents.
A stress-free exercise time!
Best gifting option for your parents and loved ones.
Can be worn on wet surfaces without the fear of slippage or falling.
Get to know Nofall's products better :
Comply to international standards.
Designed with an intention of customer safety.
Scientifically tested.
High-quality raw material.
Applicability of ink for manual printing.
Unmatched product quality.
Ethical business conduct.
Hassle-free packaging.
Prompt delivery.
Affordable price points.
Comes in beautiful and appealing colours and designs.
Posted by hits
On September 4, 2018
0 Comments